Print this chapter
FHS Covid-19 Handbook
Screening and Testing
Screening and Risk Scenarios
WITS COVID-19 SCREENING APP
Wits has developed a COVID-19 Screening App called LogBox Patient App which can be downloaded from the App Store or the Google Play Store. 
ALL STUDENTS AND STAFF TO COMPLETE THE SELF-SCREENING FORM ON THE APP EVERY DAY, BEFORE ENTERING CAMPUS, RESIDENCE, USING WITS TRANSPORT, ATTENDING CLINICAL SITES
Download the Logbox Patient Application from the App Store or the Google Play Store.

 Click here for Logbox App in App Store. Click here for Logbox App in Google Play Store.
Follow the initial instructions in the Wits Logbox brochure to set up the app. 

Fill in the screening form every day.

 

You will receive a notice on your mobile phone that either clears you for entry or denies you entry to campus, residence, Wits transport or attending clinical sites.

Show your clearance note to the security officers. If you receive a NOT clear message, you need to contact your Course Coordinator/Supervisor, immediately to be provided with advice for next steps.
For those staff members and students without smartphones or computers, hard copies of the screening form can be filled in and provided to Wits Security. Click here for link to Wits website with Logbox Screening tool information and paper-based form.
HONESTY & INTEGRITY
Students are reminded of the importance of honesty in completing the daily screening app. The falsification of information concerning COVID-19 is considered a serious misrepresentation during the State of Disaster Management and can potentially have legal consequences.  Students are reassured that every effort will be made to complete the year for missed time.
SCREENING TOOL QUESTIONS
Wits COVID-19 Screening App asks the following questions.
Do you have fever, dry cough, sore throat, redness of eyes, short of breath, body aches/muscle pains, loss of smell/taste, nausea/vomiting, diarrhoea, fatigue/physical weakness?

Have you been exposed to someone diagnosed with Covid-19 or had recent contact with someone who is self-isolating whilst waiting for a Covid-19 test result?

Have you been in quarantine/self-isolation for the past 14 days?
NEXT STEPS IF NOT CLEARED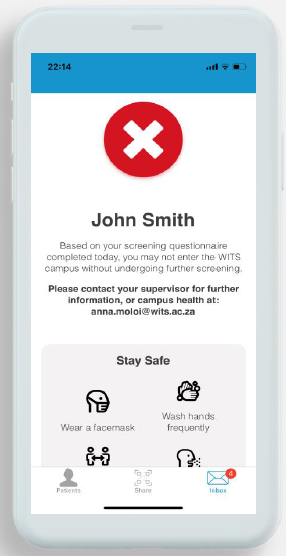 If you answer "yes" to any question, you will receive a message as above, please contact your Supervisor/Course Coordinator and/or Campus Health to inform them that you are not cleared and use the following COVID-19 Risk and Scenarios table, with your Supervisor/Course Coordinator, to identify the Scenario, Risk level and subsequent steps to take if you are not cleared (e.g. you have a positive test, symptoms or exposure to a suspect or confirmed positive COVID-19 case.)
Emergency Contact Numbers:
Campus Health and Wellness Ctr on Education Campus is 011 717 9113

Campus Health and Wellness Ctr on Main Campus is 011 717 9111

NICD HOTLINE is 0800 029 999

Ambulance is 10177 from landline or 112 from mobile phone

Office of Student Success COVID-19 Care Line is 076 518 7499 (office hours)

Wits Student Crisis Line is 0800 111 331 (24 hours)
COVID-19 RISK AND SCENARIO TABLE
Use this table to identify the Scenario, Risk and subsequent steps to take should a student test positive, have symptoms and/or exposure to a COVID-19 presumptive or positive case. The table follows the guidelines presented by NDOH Occupational Health and Safety Committee – Covid-19 Response.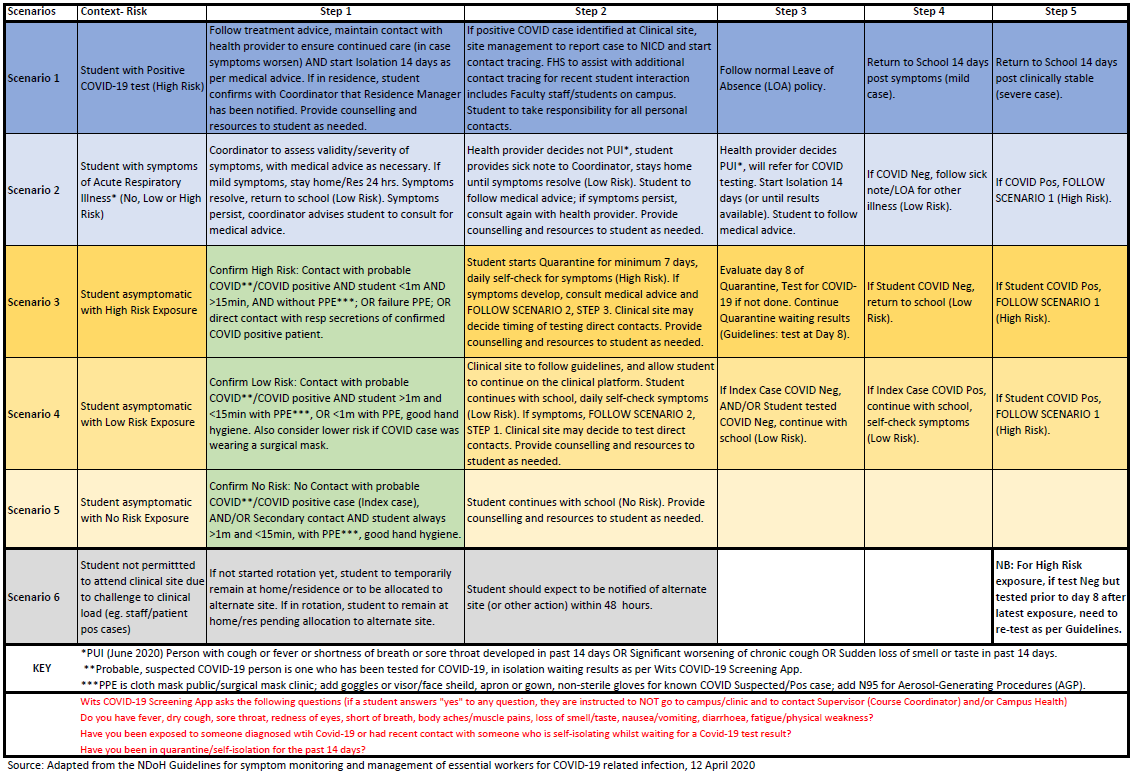 Source: Adapted from NDOH Guidelines for symptom monitoring and management of essential workers for COVID-19 related infections, June 2020
Additional Source: NDOH Guidelines for symptom monitoring and management of essential workers for COVID-19 Dec 2020 updates, no significant changes from June 2020 guidelines
Click here for Updated De-Isolation Guidelines, 17 July 2020
LEAVE OF ABSENCE
Students are not obliged to return to campus/clinical training if they have personal health or family considerations that prevent them from doing so, and are eligible to apply for Leave of Absence (LOA) for the remainder of the year. Students who become ill and/or are in Quarantine/Self-Isolation/Isolation are also able to apply for Temporary Leave of Absence (TLOA). 
Students should communicate with their Programme/Course Coordinator who will advise on the process for TLOA and LOA.

All TLOA and LOA applications will be handled by the office of the Assistant Dean of Teaching, Learning and Undergraduate Affairs, Prof Judy Bruce.  

Instances where students may have to Quarantine/Self-Isolate or take TLOA due to COVID-19 infection will be considered on a case-by-case basis. 

 

Every attempt will be made to ensure that a student is not unfairly disadvantaged for having to quarantine/isolate.

 

Evidence of online engagement during quarantine/isolation (mild symptoms) ensures eligibility to sit for theory assessments.

For clinical students,

evidence of clinical time make-up/catch-up, as documented in a dedicated logbook signed off by a clinical site supervisor, ensures eligibility to sit for clinical assessments. 

If make up time is not possible in current academic year, student may become asynchronous to complete requirements in 2021. 

 

Students are reminded that they must still meet all current Satisfactory Performance requirements per degree. 
PLEASE NOTE in the case of the GEMP programme, TLOA or deferral of a rotation does not equate to a failed rotation, and would not necessitate having to repeat an entire year. 
ACADEMIC SCENARIO TABLE 
Clinical Risk & Scenarios 

Possibility of Quarantine or Self-Isolation/Isolation

TLOA Period (estimate) 

Academic implications/outcomes 

Scenario 1, High Risk 

Positive test, 10 day Isolation from positive test date

10 days 

 

 

Student's health and well-being is always prioritised over their continued involvement in the academic programme. 

 

Student continues with online programme during quarantine/isolation. Student can sit for theory assessment with demonstrated online engagement and catch up material as required.

In addition for clinical students: Student supported to make up clinical hours in remainder of academic year. Practical assessment is withheld until all clinical time made up as documented in a dedicated logbook signed off by a clinical site supervisor. Student may need to be asynchronous to complete clinical hours in 2021 to meet all SP requirements per degree.  

By exception, individual departments will decide the threshold over which a student will need to repeat individual rotations/academic programme. This will be communicated to the Office of  Teaching, Learning and Undergraduate Affairs.

Scenario 2, Low to High Risk 

Symptomatic – mild/ moderate recovery time 

1 to 10 days 

Scenario 3, High Risk 

Quarantine for 5 days, (monitor for symptoms), if asymptomatic with Neg test on Day 5.  

 

 

OR  

 

5 days 

 

Quarantine for 5 days (monitor for symptoms), asymptomatic with Pos test on Day 5. Continue 10 days of Isolation from positive test date.

14 days  

Scenario 4, Low Risk 

Return to campus   

0 to 1 day 

No impact to academic programme