FHS Covid-19 Handbook

What is COVID-19

WHAT IS THE CORONAVIRUS (COVID-19)?
According to the World Health Organisation, "Coronaviruses (CoV) are a large family of viruses that cause illness ranging from the common cold to more severe diseases. A novel coronavirus (SARS-CoV-2) is a new strain that has not been previously identified in humans. COVID-19 is the name of the illness caused by SARS-CoV-2.
HOW DOES IT SPREAD? 

The disease can spread from person to person through small droplets from the nose or mouth, from sneezing or coughing. This means that the virus can spread from touching surfaces and then your nose or mouth as well as by breathing these droplets in or if droplets land in your eyes, nose or mouth. 
SHOULD I BE WORRIED ABOUT CATCHING COVID-19? 
The World Health Organisation (WHO) has issued the following information:  
"Illness due to COVID-19 infection is generally mild, especially for children and young adults. However, it can cause serious illness: about 1 in every 5 people who catch it need hospital care". 
Source: http://www.kaelo.co.za/coronavirus 
More information found at: South Africa COVID-19 Online Resource and News Portal
Distance, Dose, Dispersion: Experts' guide on Covid-19 risks in South Africa and how to manage them
Click here to read the article to Understand the three things that can make the most difference to easing the lockdown and reopening South Africa with the least risk.
WITS COVID-19 South Africa Dashboard
Click here for WITS COVID-19 South Africa Dashboard for tracking cases
HELPFUL INFOGRAPHICS ON COVID-19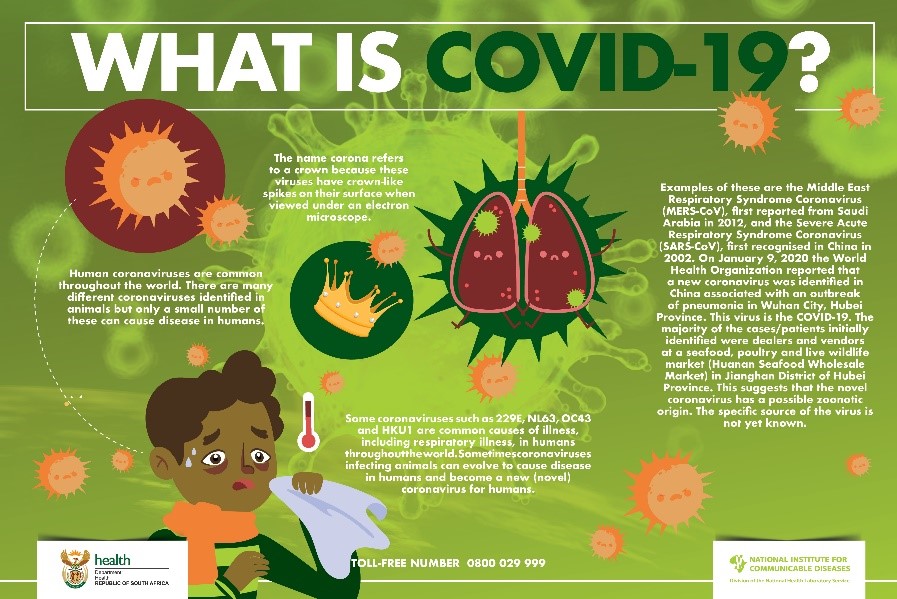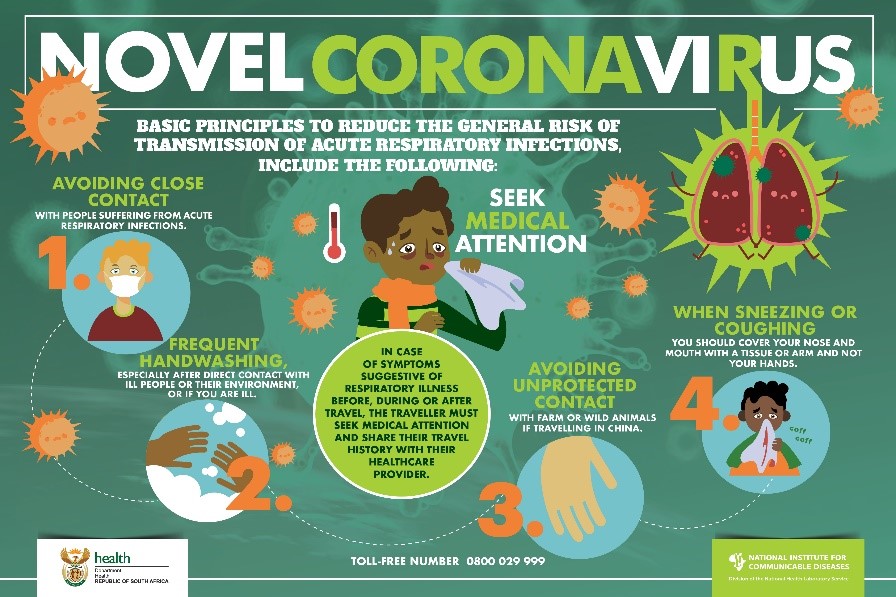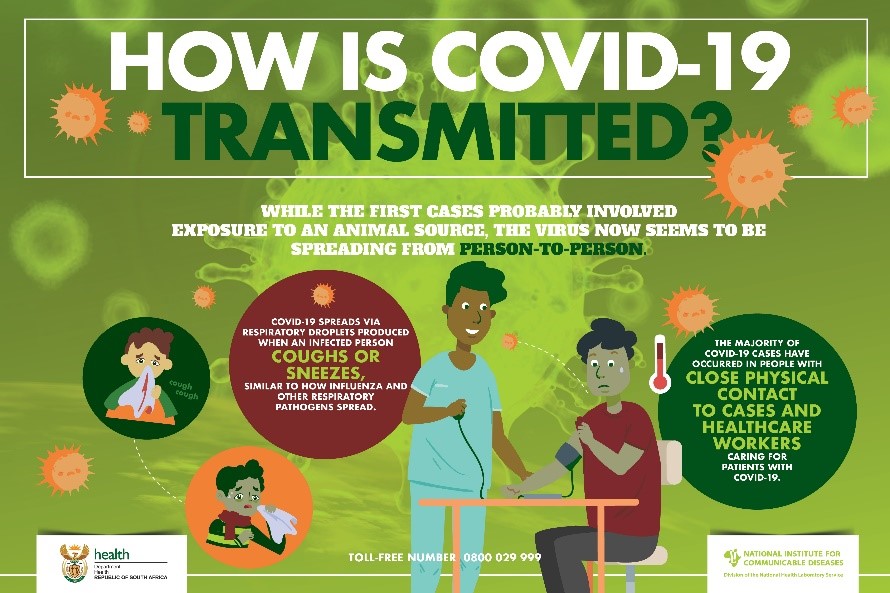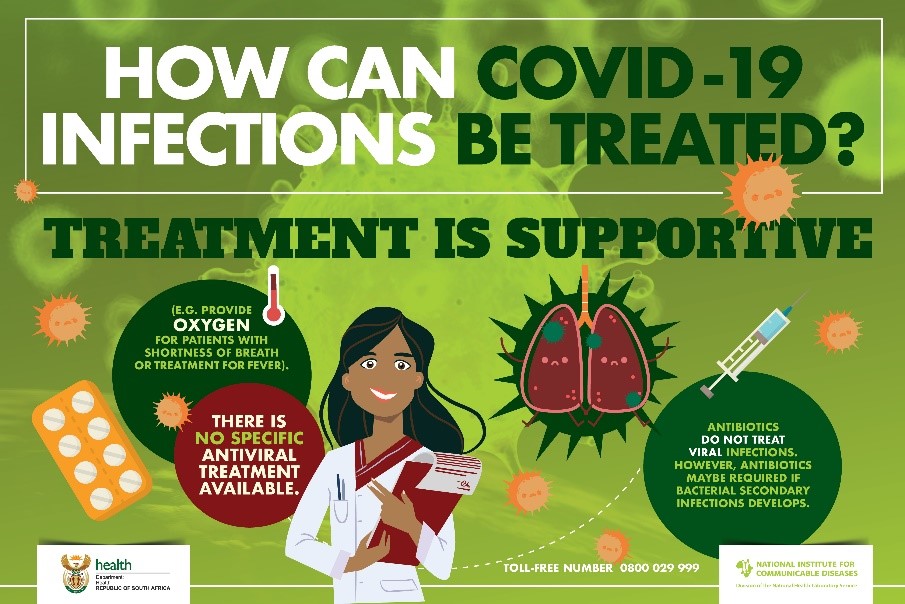 CORONA VIRUS (COVID-19) 24-HOUR HOTLINE NUMBER: (General public)

0800 029 999 

CORONA VIRUS (COVID-19) 24-HOUR HOTLINE NUMBER: (Clinicians)

082 883 9920

CORONA VIRUS (COVID-19) WhatsApp number: 

Send "Hi" to 0600 12 3456 
Click here for link to SA COVID-19 Key Contact Directory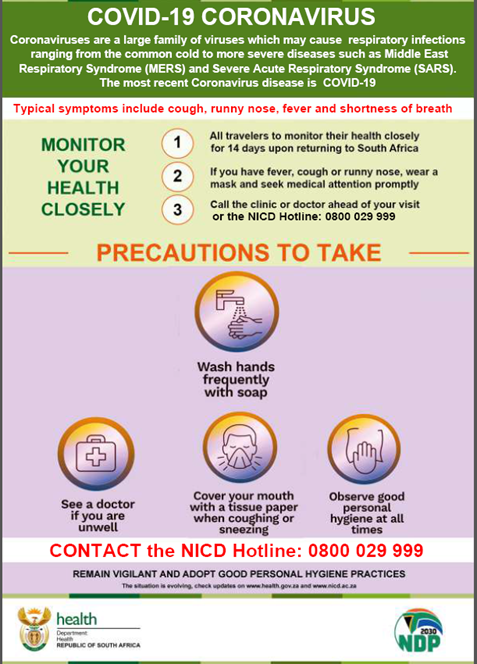 Helpful links for COVID-19 information:
National Department of Health COVID-19 website 

National Institute for Communicable Diseases COVID-19 website
South Africa COVID-19 Online Resources & News Portal website